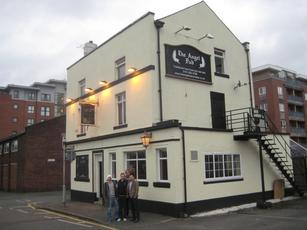 Angel, Angel Street. (c)
beerintheevening
.
Following a visit to the Angel and a chat with the landord last week, he has confirmed (as far as he is aware anyway) that we won't be losing this little gem of a pub afterall, although he was unaware of the propsed new road which will go right past his front door! Clearly, if this is single lane carriageway, it won't concern him greatly, however, should it be dual lane, this could have more serious consequences to his business. Bearing in mind the
Crown & Cushion
is being
dropped
to make way for this new road (it's still not been officially released by the Council for public consultation, despite all the works going ahead around it), it could yet be a multi-laned highway that will spring up.
An earlier trip to the Crown & Cushion confirmed what we already knew in that the last day of trading will be 5th January 2011. Indeed a spokesman indicated "the pub has actually been sold for months, irrelevant of what story they put out," which I guess we were already aware of. Another source has revealed that a petition was received by Holt's Brewery with over 4000 names on it protesting against the closure and demolition of Manchester's oldest licence premises.
I'm sure we will be in there on its last night for a final time before this historic part of Manchester vanishes forever under the Co-op and the Council's concrete highway.